DVD-Title: In & Out (Trailer)
Hits: 10.453 views
Download: no
Posted: Sonntag, Januar 30th, 2011 03:13 pm GMT +1
2011, North America, In&Out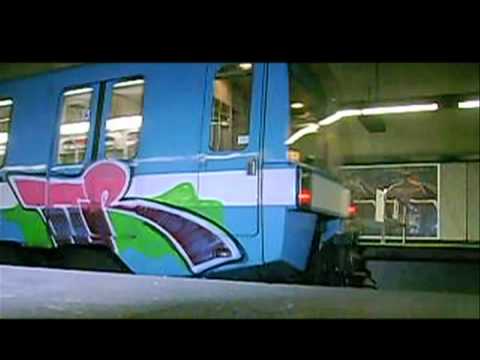 Disclaimer | Hinweise

(klick here)
Graff-TV.com is a documentation and promotion platform of the worldwide dvd graffiti community.

Graff-TV.com versteht sich als Dokumentation- & Promotionplattform der Graffitidvdszene weltweit.


The content of this page is not supposed to induce criminal and illegal activities or imitation. It is made exclusively to present the artistic aspects of graffiti. We are just online chronists of the cultural development of graffiti in the world wide web over the years.

Der Inhalt dieser Seite soll nicht zu kriminellen Handlungen oder Nachahmungen aufrufen. Es geht lediglich um die Darstellung der künstlerischen Aspekte! Wir dokumentieren nur ein Szenegeschehen über Jahre online im WWW!


Embedded videos can be uploaded anonymously on this page. Since we strictly reject the violation of copyrights of and by others, we urgently ask you to immediately inform us should a sender have violated copyrights.

Videos können bei uns "anonym" eingestellt werden, daher distanzieren wir uns von der Verletzung von Urheberrechten anderer und bitten um Informationen, sollte ein Einsender diese verletzt haben.


We kindly ask you not to contact us for information about how to get in touch with certain graffiti writers, since we do not know them and the person who has uploaded a video might not be identical with the producer thereof.

Von Anfragen, wie man mit bestimmten "Sprayern" in Kontakt treten könnte, bitten wir abzusehen, da wir diese nicht kennen, da die Person, die die Videos einstellen, nicht unbedingt der Produzent des Videos ist.


The clustering according to e.g. categories, keywords and descriptions is based on internet research and does not necessarily refer to proven facts, since there might be a multitude of identical names of crews, crew members who have accepted new members without having asked permission of the original crew or even faked tags or names of crews. Besides, we are living in a big world where we don`t necessarily know each other personally.

Die Zu-/ Einordnung wie zb. Kategorien, Keywords & Beschreibungen basiert auf Internetrecherchen und die müssen nicht unbedingt den Tatsachen entsprechen, da es z.b Doppelbelegungen von Crew- Namen gibt und Personen, die eigenmächtig Freunde in eine Crew aufnahmen, ohne mit der Crew Rücksprache gehalten zu haben, bzw. "tag"- oder/und Crew Namen faken. Außerdem leben wir in einer sehr großen Welt wo nicht jeder "jeden" kennt.


That is why we would like to clarify in advance that similar keywords, descriptions or clustering of videos do not automatically mean that the producer thereof was one and the same person.

Deshalb weisen wir vorsorglich darauf hin, dass gleiche Keywords, Beschreibung, bzw. Videozuordnung nicht unbedingt auf den gleichen Urheber hinweisen.


In advance we state that we refrain from and are not responsible for the contents of all the Links we have published on this page. We just see the Links as sources of more information and claim not to have any influence on their contents.

Wir distanzieren uns vorsorglich von den Inhalten aller hier gesetzter Links, die wir veröffentlichen, da wir sie nur als Hinweis für weitere Informationen sehen und keinen Einfluss auf deren Inhalte haben.


Neither do we guarantee the truthfulness of those pages.

Für den Wahrheitsgehalt dieser Seiten übernehmen wir keine Gewähr.


None of the videos (if not marked otherwise) are copyright of Graff-TV.com, but they are property/copyright of others.

Alle Videos (soweit nicht anders gekennzeichnet) sind nicht Copyright von Graff-TV.com, sondern Fremdinhalte.


These are to be identified as sources by brandings (mostly to be found on the right bottom of the respective video).

Diese sind durch "Bildlogos" (Branding) meist unten (rechts) im Video als Quellenangaben kenntlich gemacht.


Texts and comments signed with names or nicknames are not necessarily identical with the opinion of Graff-TV.com. The respective authors are responsible for them exclusively.

Mit Namen/Nickname gekennzeichnete Texte/Kommentare stimmen nicht unbedingt mit der Meinung von Graff-TV.com überein und liegen in der alleinigen Verantwortung des jeweiligen Autors.


When writing entries into our guestbook, discussing or writing comments on Graff-TV.com you are urgently asked to refrain from offensive utterances of any kind, from publishing illegal download Links or names of illegal writers. (Keywords are not affected - a video is long...).

Bei Einträgen ins Gästebuch oder Diskussionsbeiträgen oder bei Schreiben von Kommentaren auf Graff-TV.com bitten wir beleidigende Äußerungen, eindeutige Zuordnungen von illegalen Sprayern zu unterlassen (Keywords nicht betroffen - ein Video ist lang...). Ebenso das Veröffentlichen von illegalen Downloadlinks!


Otherwise such remarks/notes will be deleted.

Solche Beiträge werden gelöscht.


Although this page is supervised and worked on regularly, we ask for your assistance and immediate notice should you come across humiliating or abusive language, comments or speculations about illegal writers etc. We will delete such utterances at once.

Alle Eintragungen werden regelmäßig gewartet. Wir bitten um Mitwirkung, wenn herabwürdigende Äußerungen oder Spekulationen über illegale Sprayer veröffentlicht wurden. Wir werden diese Beiträge dann unverzüglich entfernen.


Graff-TV.com embeds videos only then, if they were uploaded on special online video host sites like for instance dailymotion.com or youtube.com before.

Graff-TV.com bettet nur Videos ein, welche zuvor bei Online-Video-Hosts wie z.B. dailymotion.com oder youtube.com hochgeladen wurden.


This is possible only for those registered users of online video host sites who have explicitly asked for embedding and publishing their videos on other Internet pages to promote them and with them the host on a world wide scale.

Dies geht nur dann, wenn die dort angemeldeten Nutzer es explizit gewünscht haben, eben ihre Videos auf anderen Internetseiten einbinden und veröffentlichen zu lassen, um sie zusammen mit dem entsprechenden host weltweit zu promoten.


The users of these video host sites signed a contract with these sites by setting up their accounts which forces them not to upload illegal content.

Die Nutzer dieser Video-Hosting-Sites sind durch das Einrichten ihres Accounts einen Vertrag mit diesen Seiten eingegangen, der sie zwingend verpflichtet keine illegalen Inhalte hochzuladen.


By clicking on any Links to videos while surfing on Graff-TV.com you leave Graff-TV.com. Graff-TV.com can't take the responsibility for any content hosted on other sites.

Indem man beim Surfen auf Graff-TV.com auf einen beliebigen Link klickt, verlässt man Graff-TV.com. Graff-TV.com kann keine Verantwortung für den Inhalt, der auf anderen Seiten eingestellt ist, übernehmen.


We would like to point out that the anonymously embedded videos on Graff-TV.com are subject to copyright and must not be copied from Graff-TV.com, since they are only there to be watched online.

Wir machen darauf aufmerksam, dass die anonym eingestellen Videos urheberrechtlich geschützt sind und nicht von unserer Seite kopiert werden dürfen, da diese nur im Sinne von "online anschauen" dem User zur Verfügung gestellt wurden.


All rights to the videos belong to the respective user who has uploaded this video on e.g. youtube.com . Anyone who wishes to use the videos needs to ask for his/her permission to do so.

Bei allen Videos liegen die Urheberrechte beim jeweiligen User, der dieses Video online auf z.B. Youtube.com gestellt hat und jedwede Nutzung bedarf dessen Zustimmung.


We don`t take over any responsibility for the embedded videos on Graff-TV.com

Für auf Graff-TV.com eingestellte Videos übernehmen wir keine Haftung!


Additionally we don`t take over responsibility for the correctness of the origin of the writer, since there might be several crews with a similar name, similar tags and weird guys with excellent skills in digital design.

Wir übernehmen auch keine Garantie über Urheberschaft des Sprayers, da es nicht nur Doppelbelegungen von "tag"- und Crew Namen gibt, sondern auch Spaßvögel mit exzellenten Kenntnissen digitaler Bearbeitung.


Graff-TV.com is absolutely legal and contains only Links to other sites on the Internet like dailymotion.com, myspace.com, tudou.com, veoh.com, youku.com, youtube.com and others.

Graff-TV.com ist absolut legal und enthält lediglich Links zu anderen Seiten im Internet wie z.B. dailymotion.com, myspace.com, tudou.com, veoh.com, youku.com, youtube.com und andere.


We do not host or upload any video or moviefile.

Weder hosten wir videos und Filmdateien, noch laden wir sie zu uns hoch.


Graff-TV.com is not responsible for the accuracy, compliance, copyright, legality, decency, or any other aspect of the content of other linked sites.

Graff-TV.com ist nicht verantwortlich für die Korrektheit, Vollständigkeit, die Einhaltung des Urheberrechts, die Gesetzestreue/Legalität, den Anstand oder jedweden anderen Aspekt betreffend den Inhalt anderer verlinkter Seiten.


If you have any legal issues, contact the media file owners / hosts.

Wenn Sie rechtliche Bedenken haben, kontaktieren Sie bitte den Besitzer der Filmdatei und die Betreiber der host sites.


Should you - for what reason ever - not agree to this, please leave this site IMMEDIATELY!

Solltest du dies alles - warum auch immer - nicht wollen, verlasse bitte SOFORT diese Seite!


This site is subject to and abides by the jurisdiction of the Federal Republic of Germaqny exclusively (excluding the UN- purchase right).

Es gilt ausschließlich das Recht der Bundesrepublik Deutschland unter Ausschluss des UN-Kaufrechts.


This also applies, if the person accusing is subject to another country`s jurisdiction.

Dies gilt auch dann, wenn der Kläger seinen allgemeinen Gerichtsstand im Ausland hat.


Salvatorian Rule
In case of possible (even future) invalidity of specific points within this set of rules, no other points than the invalid ones are subject to change. All the other ones still remain effective. Invalid points are to be replaced by valid ones following their original deliberate purpose.

Salvatorische Klausel
Sollten einzelne Punkte dieser Bedingungen unwirksam sein oder werden, berührt dies die Wirksamkeit der übrigen Bestimmungen nicht. Unwirksame Bestimmungen sind durch wirksame Bestimmungen zu ersetzen, die dem gewollten Zweck möglichst nahe kommen.